The Burbrink Crew
Frank is the PI of our lab and, per his website, "focuses on answering questions related to ecological opportunity, adaptive radiation, phylogeography, taxonomy, biogeography, molecular evolution, species tree estimation and divergence dating methodology." His favorite thing in the world is discounted scratch and dent cans of Dinty-Moore corn beef hash. Check out his website for more information. Picture from http://www.inhs.illinois.edu/~chrisp/FTB.gif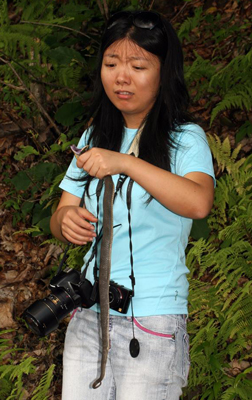 Xin is a PhD student in the lab focusing on phylogenetics of Asian Ratsnakes. Heterodon is utterly unfathomable to her (left).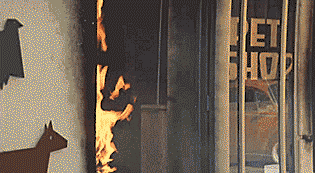 Ed is a PhD student in the lab focusing on comparative phylogeography of the Cochise filter barrier. He actually has a wordpress website now, where you can view a golden shower of his publications, and was recently featured in a Huffington Post article that you can access here:
: http://www.huffingtonpost.com/2013/07/12/edward-myers-arrested-lightnig-boy-on-fire_n_3587112.html

Arianna Kuhn
Arianna is a PhD student starting Fall 2014, working on Madagascan snakes.
Dr. R Alexander Pyron
Alex is shifty as smoke but always reagive a dose of the straight talk. A graduate of the Burbrink lab, he now holds an endowed professorship at George Washington University. Check out his website - you won't get what you want, you'll get what you deserve.
Dr. Tim Guiher
Tim recently finished up some really awesome work on Agkistrodon phylogeography, biogeography and historical demography. He's now working as a postdoc at the American Museum of Natural history, where he will be using next generation sequencing to determine the phylogenetic relationships of the crotalinae.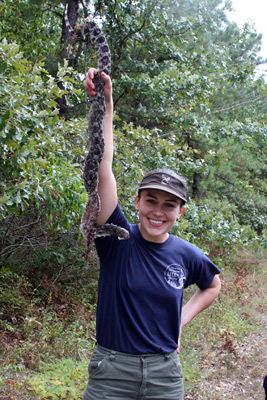 Dr. Sara Ruane
Sara was a PhD student in the lab focusing on phylogenetics and phylogeography of Milkshakes Milksnakes. Now she strives for a Novitates publication at the American Museum of Natural History as a postdoc.
Other Friends and Collaborators
Alex is a PhD student at New Orleans University currently working on behavioral ecology and ecomorph/convergence of arboreal snakes across the world. He's got some great, funded project ideas and does more sustained far away field work than any other grad student I know. We have been collecting in Southeast Asia, Latin America, and the Southeastern United States. Even though we have the same name it's not difficult to tell us apart.
Kapil is a graduate student and rumored prince of India at SUNY ESF in Syracuse, New York. He came to America after winning 20 million rupees on "Who wants to be a millionaire" in Mumbai. We have worked together at Albion College in Albion Michigan and at Arkansas State University in Jonesboro, Arkansas. Kapil is currently examining Amazon ecosystems in Brazil via Arapima gigas trophic studies. His personal website is currently unavailable but will be back up soon (so he tells me).
Todd has collaborated on research with governments, NGO's and universities from seven countries spanning three continents including biologically diverse countries such as Costa Rica, Ecuador and India.His research themes include tropical rainforest dynamics, herpetology, climate change, population dynamics, botany and environmental pollution.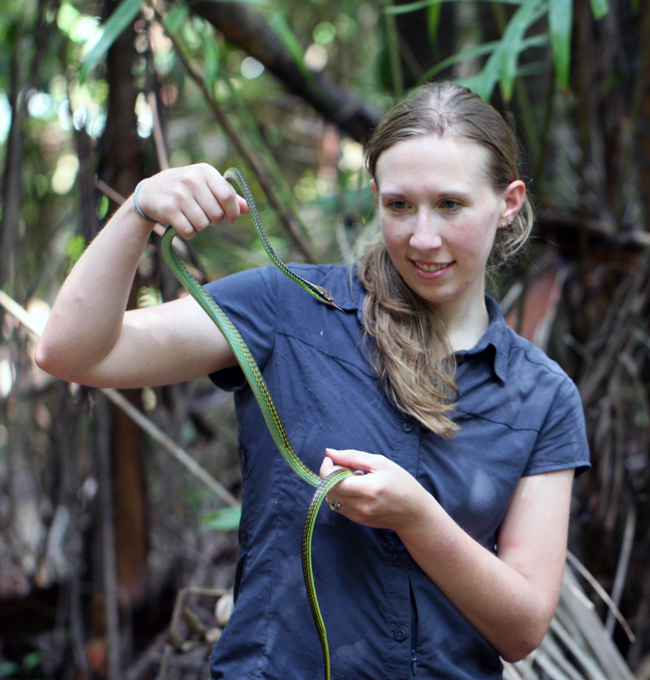 Ashley is a graduate student at College of Staten Island in Lisa Manne's lab. She works on issues concerning habitat fragmentation, persistence and other ecological show stoppers. She is currently out standing in her field.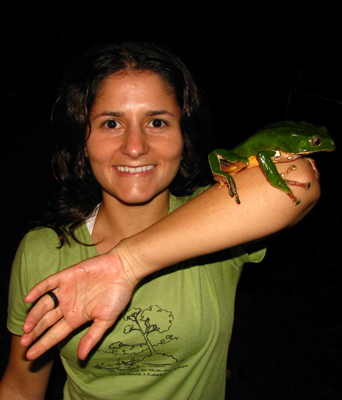 Eliana Faria
Eliana is a visitng graduate student in Gabriel Costa's lab, and is working on phylogeography of Cnemidophorous in Brazil. When not in the lab, she and Vinny (below) enjoy luncheoning at the College of Staten Island cafeteria and helping Chinese men shop for belts.
Vinícius Avelar São Pedro
Something about frogs?
Diego studies Stiff-legged behavior in pererecas.
Dr. Oscar Pineda-Catalan
It is rumored that Oscar once inhabited the halls of the American Museum of Natural History.